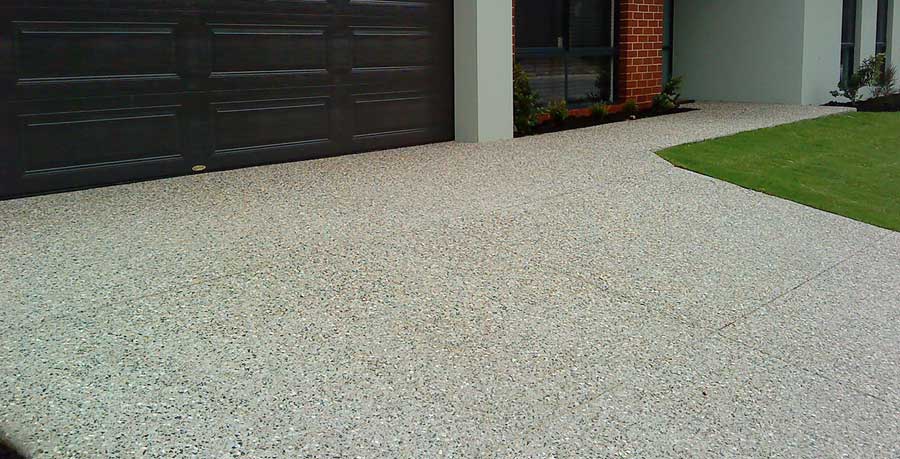 Choosing the right Aggregate for your Exposed Aggregate Driveway
Choosing the right aggregate for your new driveway can be a very tedious task. Endless searching through magazines to get an idea, sample sourcing and trips to the various suppliers. With so much variation and choice in aggregate colour, coming to a final decision will take time.
We suggest that firstly you speak to your architect and try get your hands on a rendered drawing with the final external colour of your house. If possible also ask your architect to obtain a colour swatch of the houses external render colour, brick type or painted finish. If you are simply re-doing your driveway and the house already exists then get ahold of some photos that put the driveway in perspective to the house. Armed with these few tools call your local aggregate suppliers and arrange to visit them, taking with you the swatches and images and get as much advise from the experts as possible.
The suppliers themselves are one of the best tools at your disposal when it comes to making a decision. By showing them your plan and giving them some perspective, they can relate your needs to jobs they have done previously and work with you to source the best aggregate mix they can. Concrete aggregate suppliers have their own premix range of aggregate, these are most likely also seen on the companies website. Do not however feel that this is their only range available. Aggregate is highly customizable and because of that you can walk in to a supplier and tailor a combination of pebbles and stones that you and the supplier thinks will work best for your needs.
Once you have spoken to the supplier and found some options that you like and wish to consider, ask for a small sample. Then back home and on site spread the sample accordingly in a focused area within the defined area for the driveway. From this look at how it works against the colour of the house and surrounding vegetation.
Also it is important to keep in mind that it is not just the aggregate that provides effect. Most suppliers provide the concrete and the aggregate and deliver it mixed ready to poor before it is set and exposed through blasting techniques. Due to the concrete being supplied you also have to consider if you want the concrete to be coloured. Suppliers tend to know what colour concrete works best with certain aggregate so be sure to ask them when in contact.
Choosing the right texture for your exposed aggregate driveway should not be as hard as finding the colour. There are just a few questions you need to ask yourself, will you be walking on the driveway barefoot regularly? Is the driveway mainly used for cars? What level of drainage do you need? It's questions like these that help you find the right solution. If you you expect to walk on the aggregate a lot then a finer aggregate is needed for comfort. If you need good drainage and want more traction on your driveway then a coarser mix is required to help spread water and prevent slip and skid when driving.
Source : http://www.designerpremix.com.au/articles/choosing-the-right-aggregate-for-your-exposed-aggregate-driveway/